Applications
Extractive Distillation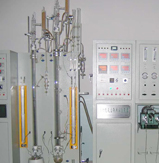 Separation of compounds with similar boiling points, eg n-propyl alcohol and sec-butyl alcohol, butane and 2-butene.

Sulfolane effectively separates n-propyl alcohol from sec-butyl alcohol (2- butanol). These alcohols cannot be separated easily by fractional distillation as both their anhydrous and water binary azeotrope boiling points are within 1.7C of each other. The separation is readily accomplished by extractive distillation with Sulfolane as a reflux liquid. Since the Sulfolane depresses the vapour pressure of the secbutyl alcohol, n-propyl alcohol distils overhead and the sec-butyl alcohol/Sulfolane is recovered as a bottoms product. This procedure is of use in separating mixtures of these and other close-boiling alcohols.

Similar systems have been proposed for separating other close-boiling mixtures, such as butane and 2-butene, isopropenyl styrene and tert butyl styrene, m- and o-xylenes, close-boiling chlorosilanes and dichlorobenzene isomers. The relative volatilities of m- and pxylene are insufficiently changed to allow the practical use of Sulfolane for extractive distillation.

Unsaturated fatty acids have been separated by extractive distillation at reduced pressure. Isoprene has also been separated from isoamylene mixtures. The separation of monochloroacetic and dichloroacetic acids from their mixture has been achieved by adding Sulfolane and distilling in vacuo.

Sulfolane was found to be the best of solvents examined for the extraction of 1,3-butadiene from C4 olefins having close boiling points.
Contact us
Tel: +86-419-2313380
+86-419-2313381
+86-419-2313382
Fax : +86-419-2313289
Email: ghhg@china-lgh.com